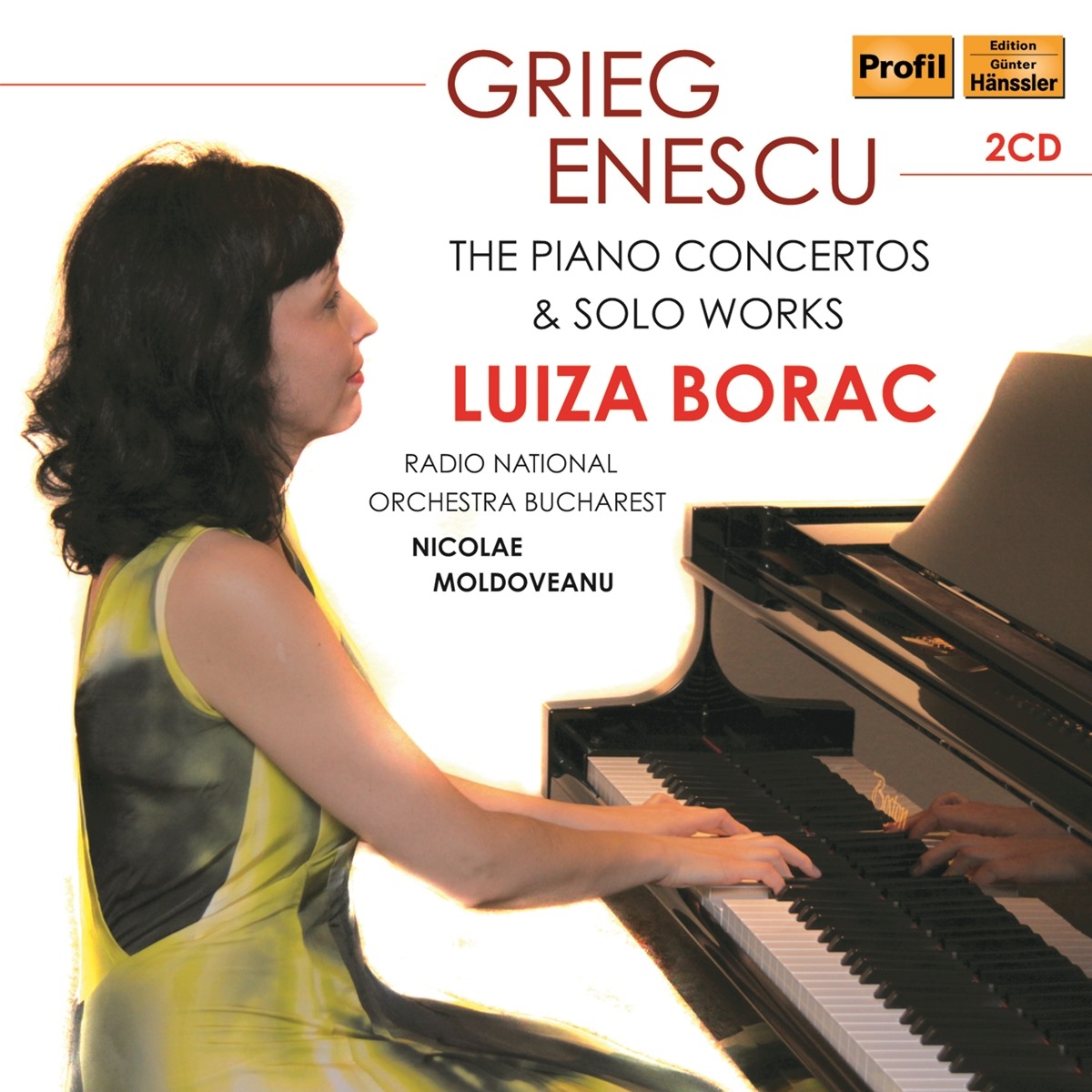 Grieg & Enescu
Piano Concertos & Solo works
Double CD
REVIEWS
"Luiza Borac's renown as a champion of the music of her compatriot, Georges Enescu, has somewhat overshadowed her interpretations of non-Romanian music, that of Grieg not least. Her prowess as an interpreter of the Norwegian composer should come as no surprise given her early successes gaining Norwegian piano-playing prizes in 2002. This recording of the Concerto was made in Bucharest in 2019 and is beautifully nuanced and full of life, revealing her innate feeling for the music. Likewise, her delightful selection of Lyric Pieces, recorded live at a variety of locations between 2004 and 2007: one will need to go a long way for finer modern accounts of Wedding-day at Troldhaugen, Erotikon, Butterfly, and March of the Trolls.
For many, the Enescu works may be the primary interest, however. In 1897, the year before composing the engaging Phantasy for piano and orchestra (released with Borac as soloist on cpo 555 487-2, coupled with the even earlier Violin Concerto), Enescu—then 15—essayed a piano concerto. Only the first movement was completed but makes a perfectly viable single-movement work in its own right. Borac has recorded it before (as a filler on her intriguing Constantin Silvestri twofer, Hänssler Profil 2CD PH21039) with the same orchestra, this time conducted by Nicolae Moldoveanu. It is serious music, full of invention, with a rather Brahmsian character to its robust main theme, and is robustly performed here. What a shame he never added to it.
Borac rounds proceedings off with more Enescu: the marvellous Third Sonata and two movements from the Third Suite, including the magical Carillon Nocturne. Overall, then, a wonderful selection—again!—from this wonderfully musical and brilliant pianist. Heartily recommended!"
Guy Rickards, International Piano Magazine, September 2022
"Die Klavierwerke des Norwegers Edvard Grieg werden nicht allzu oft in Klavierabenden gespielt. Luiza Borac liebt aber diesen Komponisten und hat schon vor vielen Jahren den Grieg-Preis beim Wettbewerb in Oslo gewonnen. Griegs lyrische Stücke spielt Luiza Borac mit inniger Poesie, großer Klangfantasie und rasanter Virtuosität – hier in einer ungeschnittenen Live-Aufnahme aus dem" Sendesaal Bremen.
"Luiza Borac ist eine der besten Interpretinnen ihres Landsmanns George Enescu. Schon vor vielen Jahren hat Borac dessen komplette Klavierwerke aufgenommen – eine Einspielung, die bis heute eine Referenz ist. Auf ihrem neuen Doppelalbum spielt Luiza Borac eine absolute Rarität von Enescu, den ersten Satz aus seinem unvollendeten Klavierkonzert in d-moll. Gerade mal 16 Jahre alt war er, als er das Stück geschrieben hat. Vieles klingt nach Brahms oder Rachmaninow, enorm virtuos und üppig romantisch. Luiza Borac spielt diesen Brocken mit Power, großem Klang und Übersicht. Sie ist nicht nur eine feine Poetin am Klavier – auch im Zusammenspiel mit einem großen Orchester hat diese Pianistin eine beeindruckende Präsenz. Für Luiza Borac ist diese Musik beinahe eine "Muttersprache". Vollkommen natürlich und souverän bewegt sie sich in dieser komplexen Klangwelt. Luiza Borac und George Enescu – das ist nach wie vor ein musikalisches "Dreamteam". Eine wunderbare Platte mit selten gespielter Musik und einer tollen Künstlerin!"
Radio Bremen, Germany
"Luiza Borac brings to life the world of Grieg's Norway, with its folk songs, with the life that pulsates beyond the notes, with the reverie of the long winter nights…
I found the two works in the opening to be the most representative on this album: the famous Concerto op. 16 by Edvard Grieg and the unfinished Concerto by George Enescu, studio recordings made at Radio Bucharest in June 2019. We have a mature pianist, who certainly leads us through the meanders, like fjords, of this well-known concert, reserving pleasant surprises for us in an interpretation that is not at all predictable, alongside a malleable orchestra enthusiastically led by a very competent conductor, and I would also add the quality of the recording from a technical-artistic point of view.
Established since many years in Germany, with a prodigious career, Luiza Borac is known for her interest in the music of Romanian composers. Her discs with Enescu's music are considered an international reference; they have received laudatory reviews from prestigious publications and relevant awards, as is the case with an album of the two piano sonatas, released in 2006 on the British label Avie.
The third piano sonata by George Enescu brings an inspired and inspiring performance.
We can only admire the world of colors and shadows brought to life by Luiza Borac's interpretation, with reverberations towards the same Romanian dream world, an ideal Romania, as Enescu saw it and a model for us today." Cristina Comandasu, Radio Romania Muzical
"Romanian pianist Luiza Borac plays music by Edvard Grieg (Piano Concerto, Lyric Pieces) and George Enescu (Piano Concerto in D minor, 1st movement, Piano Sonata op. 24/3, 2 Pièces impromptus) on an album by Profil… with a full, round and concise piano playing." Pizzicato, Luxembourg
Tracklisting
CD 1
EDVARD GRIEG Piano Concerto op. 16
1. Allegro molto moderato
2. Adagio
3. Allegro moderato molto e marcato
GEORGE ENESCU Piano Concerto
EDVARD GRIEG
Lyric Pieces
Arietta op. 12 – 1
Norwegian Melody op. 12- 6
Popular Melody op. 38 – 2
Butterfly op. 43 -1
Erotik op. 43 – 5
Halling op. 47 – 4
Spring Dance op. 47 – 6
Norwegian March op. 54 – 2
March of the Trolls op. 54 – 3
CD 2
Notturno op. 54 – 4
Vanished Days op. 57 – 1
Home Sickness op. 57 – 6
Salon op. 65 – 4
Wedding Day at Troldhaugen op. 65 – 6
At Your Feet op. 68 – 3
Puck op. 71 – 3
Halling op. 71 – 3
GEORGE ENESCU
Sonata op. 24 Nr. 3 D major
1. Vivace con brio
2. Andantino cantabile
3. Allegro con spirito
GEORGE ENESCU
Pièces Impromptues (Suite Nr. 3) op. 18 :
Choral Moderato, non troppo lento
Carillon nocturne. L'istesso tempo