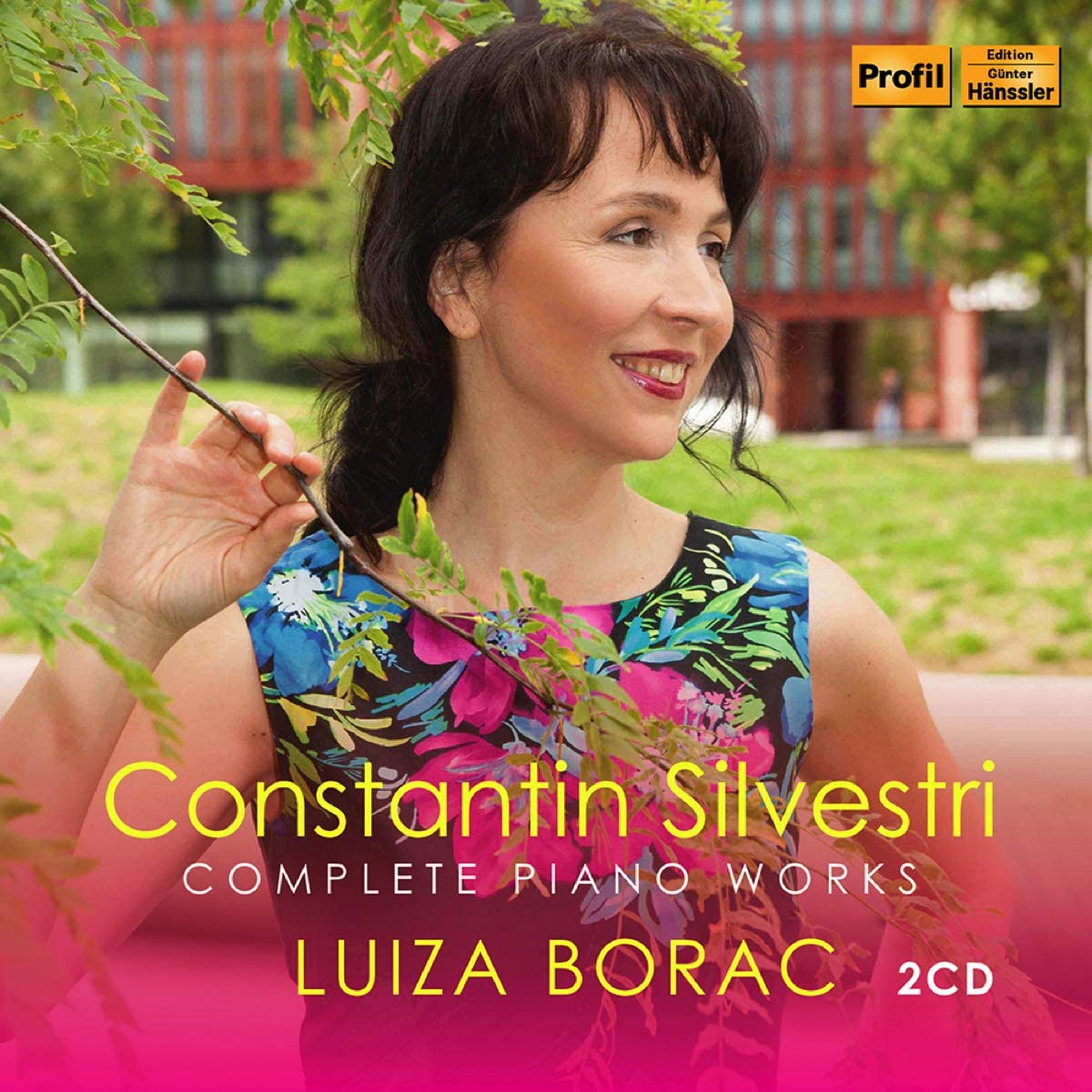 Constantin Silvestri – Complete Piano Works (World premiere)
Double CD
Suite Nr. 1 "Children Playing" op. 3 nr. 1
Suite Nr. 2 "Children Playing" op. 3 nr. 2
Suite Nr. 3 op. 6 nr. 1
Sonatina D-dur op. 3 Nr. 3
Sonata breve a due voci (1938) op. 13 Nr. 2
Sonata quasi una fantasia op. 19 nr. 2 (1940) First recording
Pièces de concert op. 25
Chants nostalgiques / Études de nuances / Cantece de pustiu op. 25 (1944)
Sonata IV Rapsodia in 3 episodi
Dances populaires roumaines de Transylvanie (Collection Béla Bartók) Kollektion), Arr. Piano Solo by Luiza Borac (First recording)
George Enescu – Piano Concerto D minor (First recording)
Györgyi Kurtàg – 2 piano works (First recording)
A charity concert "Homage to Constantin Silvestri" was organised by the Rotary Club Ramnic at the initiative of Valentin Cismaru and pianist Luiza Borac, in aid of the Art College Victor Giuleanu. The event was a remarcable one, not only from the part of the exceptional soloists but because of a wonderful and generous audience who supported the project with greatest dedication.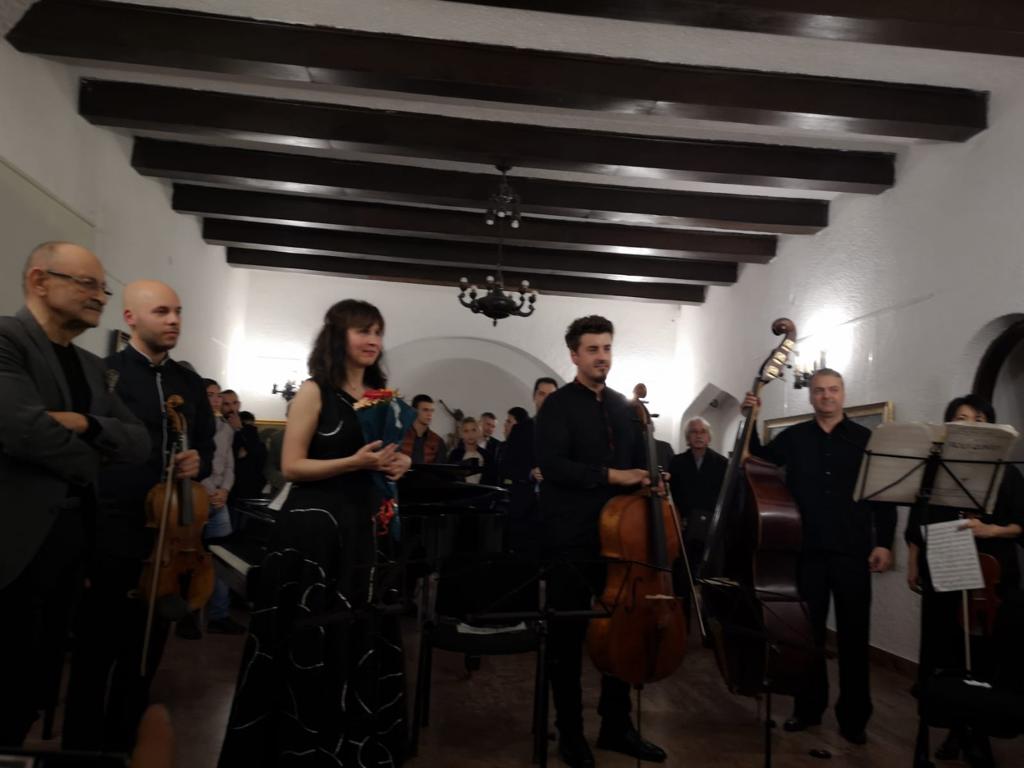 REVIEWS
Nominated for International Classical Music Awards in the category 'Best Assorted Programms"
Nominated for Opus Klassik in the category "Best Instrumentalist of the Year"
"Overall then, another fascinatingly varied set from this wonderfully musical and brilliant pianist. Heartily recommended." (Musical Opinion)
 "De cet ensemble de 145 minutes qui forme l'intégrale de l'œuvre pour piano de Silvestri, Luiza Borac donne une vision claire et précise, d'une maîtrise chaleureuse et engagée qui met bien en évidence des qualités souvent proches de l'improvisation. Le parcours ainsi proposé est séduisant, révèle une personnalité sensible et vient avec opportunité préciser le portrait du musicien de grand talent qu'a été Constantin Silvestri." (Crescendo – Joker Découverte)
"Brillante Homage to Constantin Silvestri. …very inspired and wonderfully atmospheric. The three-movement Sonatina also becomes a little jewel in Luiza Borac's interpretation. Luiza Borac's performance is truly exciting. The pianist ends her program at a consistently high level with two first recordings by Kurtag and the unfinished first movement of the Piano Concerto in D minor by George Enescu." (Pizzicato)
"Una distanza che è andata progressivamente riducendosi grazie ad un'interprete di alta levatura, come Luiza Borac che sulla scia di una traduzione illustre, da Lipatti a Lupu, ha contribuito a farci conoscere tanti tesori rimasti in ombra….pagine che la Borac distilla con sottile sensibilità entrando popeticamente in quel mistero che il grande compositore György Kurtàg affida…" (Gazetta di Parma)
"The sheer value of the repertoire here is enormous. Borac is a supreme interpreter: the smooth way she plays the octaves of "Play with Shadows" and then contrasts that with staccato angular play is hugely fetching. Her grasp of pedal work is remarkable, as she knows exactly when to use none (something a lot of pianists could learn from). Borac's touch is perfectly judged, sharp and playful in "The Puppet" (and, later, in "Goblin") before turning to melting lyricism in "Dreaming" (a very different take to Schumann's "Träumerei," incidentally). Silvestri's textural daring in "Bugbear" is remarkable, and there is considerable comedic effect here thanks to Borac, while her "Whirligig" positively sparkles. Remarkable."
The Sonatina, op. 3/3 although identifiably from the same pen seems to offer a different level of mastery; it is as if the need to be pithy within a sonata-derived form enables Silvestri to pare everything down to the bare minimum, saying exactly what he needs and not a jot more. The first movement, which epitomizes this, is marked "Con importanza," contrasting with an interior "Meditativo" and more spiky play in the spirited finale (Borac's laughing staccato a joy). Borac finds just the right level of raw abandon while maintaining clarity.
It has been conjectured that this was a way for Silvestri to present his deepest feelings, something one feels particularly in the darkly dissonant middle piece ("Con gran sensibilità"), a movement that finds Borac at the height of her persuasive powers, allowing the music to speak without a hint of hurry.
With both discs just off the 80-minute mark, this is value indeed. Borac' performances are uniformly persuasive The recording of the solo works is of the first rank. This release is also a gift to the piano repertoire and one hopes it will bring many other interpreters into the fold; although it is difficult to imagine more persuasive performances than these." (Five Stars, Fanfare, USA)
"Tolle Musik – großartig gespielt! Borac ist eine ganz kluge Musikerin mit tollen Programm-Ideen. Ihr neues Doppel-Album mit Stücken ihres Landsmanns Constantin Silvestri dürfte auch für Klavierfreaks Neuland sein. Hier kann man fast unbekannte Klaviermusik von hoher Qualität entdecken. Luiza Borac spielt Silvestris Stücke mit bezwingender Intensität und Virtuosität. Man spürt, dass ihr diese Musik einfach im Blut liegt, und dass es hier gemeinsame Wurzeln gibt. Silvestris ganz spezieller Sound zwischen Folklorismus, Impressionismus und Neoklassizismus entwickelt unter Luiza Boracs Händen eine ganz besondere Magie." (Radio Bremen)
"Borac spielt diese Musik mit Leidenschaft, Begeisterung und Können." (Pianist)
"Its character is very much improvisatory and the technical demands are extraordinary. This presents no problem to Borac, who meets all the challenges head-on with great gusto and aplomb. The opening movement is dramatically intense, with the finale a whirlwind of scintillating fireworks.
To maintain the Romanian connection we end with music by two further composers. György Kurtág is represented by two short pieces. Both are receiving their first recordings. Finally, Borac performs the unfinished Piano Concerto in D minor, composed by George Enescu in 1897. This one movement fragment is Brahmsian in style and oozes lush romanticism. The performance is a live one with audience applause retained. Rossen Gergov provides the pianist with admirable and sympathetic support.
Luiza Borac has done much to champion her native Romanian composers, and I note that she's scored success with a CD of Dinu Lipatti's piano works, in addition to two volumes by George Enescu. This latest release, approached with her usual scholarly diligence, and beautifully recorded, reveals a valuable repository of intriguing scores otherwise lost and forgotten. The entire project has been a true labour of love." (Musicweb)
"De cet ensemble de 145 minutes qui forme l'intégrale de l'œuvre pour piano de Silvestri, Luzia Borac donne une vision claire et précise, d'une maîtrise chaleureuse et engagée qui met bien en évidence des qualités souvent proches de l'improvisation. Le parcours ainsi proposé est séduisant, révèle une personnalité sensible et vient avec opportunité préciser le portrait du musicien de grand talent qu'a été Constantin Silvestri. Cet album est complété par des pages de György Kurtag et de Georges Enescu. Ces pièces font aussi ici l'objet d'une première discographique. Quant au concerto pour piano inachevé d'Enescu avec lequel, nous l'avons dit, Silvestri avait eu des liens cordiaux, il date de 1897, alors qu'âgé de seize ans, Enescu étudie à Vienne.  Luiza Borac les traduit avec un irrésistible sens de l'élan. Il s'agit ici d'un enregistrement en public (date non précisée) avec l'Orchestre National de la Radio roumaine placé sous la direction de Rossen Gergov. Ce bel apport à la discographie d'Enescu, première en CD, risque malheureusement de passer inaperçu dans cet album consacré presque totalement à Silvestri dont il démontre, grâce au talent de Luiza Borac, que la musique est à prendre en considération." (FNAC)